To contact the office please call 01223 518333 0r 07387 985602. Alternatively, you can email office@thefields.cambs.sch.uk.
Our nursery waiting list is open for September 2022. To apply, please complete an application form.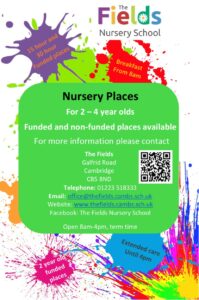 The Fields Nursery School, Galfrid Road, Cambridge
The Fields is located in the Abbey area of Cambridge.
We are a child focused centre offering a range of services to families with children under the age of 5 and to expectant parents.
Our vision is to be an open and welcoming centre at the heart of the community where a range of quality services and learning opportunities are accessible, affordable and enjoyable for young children and those who care for them.
Cherry Nursery for 2-3 year olds
Cherry nursery is our setting for 2-3 year olds. It was rated 'Good' by Ofsted in 2017. We offer funded 2 year old places too.
Willow Nursery School for 3-4 year olds
Willow nursery school is our setting for 3-4 year olds. It was rated 'Outstanding' by Ofsted in 2017. We offer 15 hours free early years education for all as well as 30 hours care and education for working parents.
Get In Touch
Address: The Fields Children's Centre, Galfrid Road, Cambridge, CB5 8ND
Phone: 01223 518333
Email: office@thefields.cambs.sch.uk